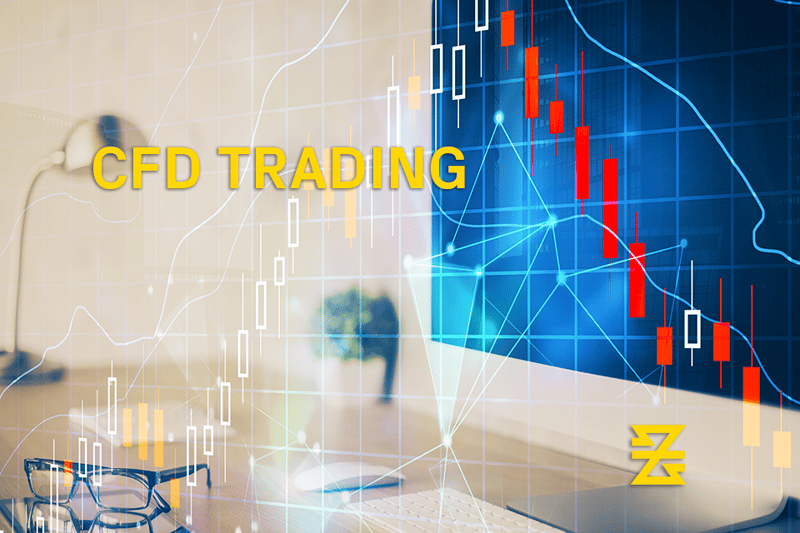 CFD Trading Meaning
The acronym CFD stands for 'contract for difference.' It is a derivative's contract that gains its value by the differences in the instrument's opening and closing prices.
In other words, a CFD will essentially allow you to trade on a financial instrument's price movement over a short period of time without actually obtaining a physical good or security.
CFDs are usually traded in the over-the-counter (OTC) market through the brokers' networks. The price movements in the market are based on demand and supply for those CFDs. They are particularly popular for various underlying assets, including stocks, currencies, commodities, and indices in the financial markets.
How Do I Know if CFD Trading Is a Good Option for Me?
Now, you might be wondering, why should I trade CFDs? Let me give you several reasons why you should trade CFDs. We can dive into a few of the reasons afterwards.
Firstly, and most appealingly is that when you trade CFDs, you tend to be permitted to trade with high leverage compared to when you choose to directly purchase the instrument. High leverage, what do we mean here? High leverage gives traders opportunities to trade with more than they have.
Leveraged trading is commonly attractive to traders because traders can enter the market with a low margin requirement. On the other hand, when purchasing an instrument outright you typically will need to put forth all of the cost of the security.
Secondly, when you trade CFDs you will typically not have to pay for commissions and the contract will not expire. Really, no commission? Yes, really, no commission! Baxia Markets does not charge any execution fees or commissions on CFD trades. Also, there is no fixed contract size or expiration date for CFDs trading.
Thirdly, in CFD trading compared to outright asset purchasing, you will be able to either purchase (or buy) an instrument and also sell (or go short) on an instrument. Yes, you can execute a trade in either direction of price movements where you may go long (buy) or short (sell) at any time. How about that? What this means is that if you have been keeping up with an instrument's health and expect that the instrument will lower in value, you have the opportunity to wager on the securities price decrease or sell it as if you owned it. Meaning Traders like you can also potentially profit from falling markets.
Finally, CFDs trading offers a wide variety of instruments and remember it is important to diversify. So you should take advantage of this factor.
Why are no shorting rules in CFD trading important to you?
Here is why. It allows you to be versatile with your trading. Baxia Markets does not have any restrictions on selling CFDs. Newsflash:
Diversification. Diversification. Diversification. This might be the most popular word used in any college finance course. We urge all our traders to fully understand all the available options you have at your disposal. Currently, Baxia Markets provides stock indices, foreign exchange pairs, and commodity CFDs. We continue to work to add to the list. Regardless, this enables speculators interested in various financial markets to trade CFDs as an alternative to physically buying and selling them. Now that we have covered all the good stuff, it is time to switch gears a little bit. Let us talk about the risks associated with trading CFDs.
What Are the Risks of Trading CFDs?
High leverage is a double-edged sword that may bring huge profits or losses. On the one hand, traders can trade with more than they have. On the other hand, high volatility and price fluctuations in fast-moving global financial markets may lead to greater risks. This is the very nature of trading. Because of the high risks for CFDs trading, traders are suggested to watch market price movements tightly, set up stop loss and manage risks properly.
This wraps up our topic for today and if you are interested in reading more about the risks of trading and how you can minimize that, we do have some great content for you. Feel free to roam our forex trading resource page here.
You can also subscribe to receive Markets News for all the trending topics around trading.
We love to hear new ideas from traders and want to know what you think! If you like this topic and want to suggest future topics that you find helpful, let us know by clicking the 'submit your feedback' button below.
Interested in learning more about trading? Visit our Educational Center below.